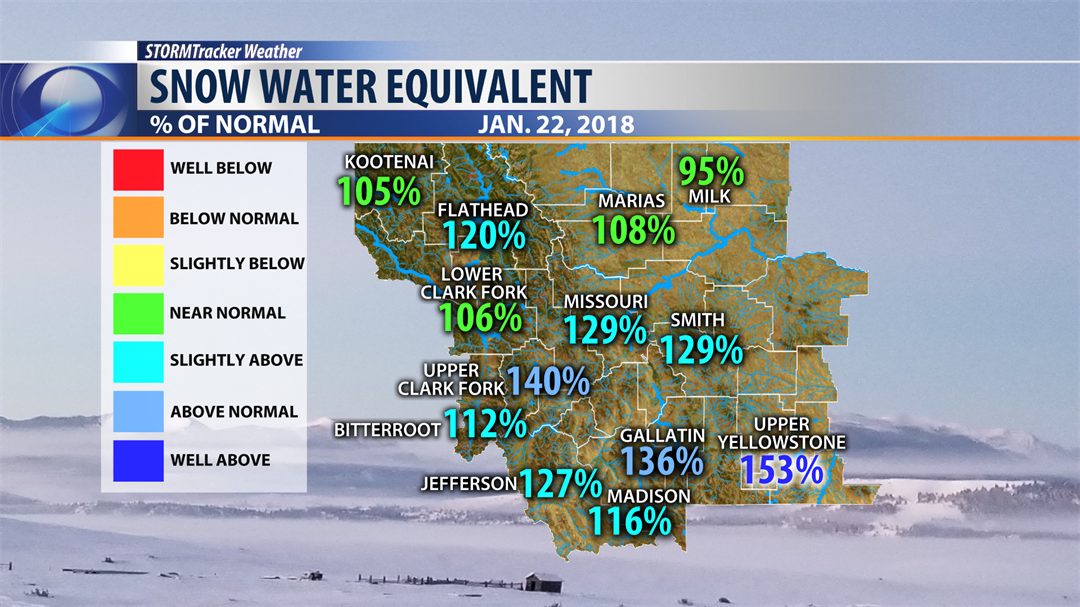 Montana Snowpack Continues To Be Healthy
News Type:
State
Source:
KBZK
Click here to read the article:
http://www.kbzk.com/story/37322227/montana-snowpack-continues-to-be-healthy
Montana's snowpack continues to be very healthy in the 4th week of January!
Winter storms in December and January have been packing a lot of water content with numerous storms laden with subtropical moisture. For example last week's snowstorm in SW Montana produced very heavy wet snow that shattered 24 hour precipitation records for many lower valley reporting stations with a quarter of an inch up a little over three quarters of an inch.
The last two months snow storms have been more typical of what we would see in late March through late April.
Southern Montana's mountain snowpack SWE (snow water equivalent) is slightly above to well above normal. The Upper Yellowstone is way up there at 153% of normal and just over the Gallatin Range the Gallatin River Basin is holding at 136% of normal and even west of the divide in the Butte/Blackfoot region the Upper Clark Fork is above normal with 140% of normal. All other basins in SW Montana vary from 110% to 130% of average. (Anything over 100% is considered above normal)
Elsewhere across the state most far Western and NW river basins are near to slightly above normal and heading into North Central Montana river basins are near normal.
Climate Prediction Center 8 to 14 day outlooks show this pattern is not over yet. General moisture trends should continue to be favorable for Montana with a 50% to 60% chance for above normal precipitation through February 5th and temperatures could continue to be colder than normal.
Good news overall as of today looking forward to water needs this Spring and Summer. However, Chief Meteorologist Mike Heard reminds us we will need to continue monitoring the situation as last year showed us we can have an excellent winter snowpack but still end up with a horrible summer fire season and devastating drought. It all hinges on when and how fast that precious snowpack comes out of the high country and how our "rainy" season develops May into June.