Massive ice jam in Eastern Montana moves downstream, easing residents' fears
News Type:
State, Regional
Source:
Billings Gazette
Click here to read the article:
http://billingsgazette.com/news/state-and-regional/montana/massive-ice-jam-in-eastern-montana-moves-downstream-easing-residents/article_a563aab3-32cc-5dc8-b2e5-76384cdb5b3e.html
Richland County residents near the Lower Yellowstone River can breathe a little easier now that a mammoth ice jam began moving downstream Tuesday evening after causing localized flooding earlier this week.
The roughly mile-wide ice jam, estimated between 5 and 7 miles long, had plugged up the river near the small town of Savage beginning last weekend, prompting flood warnings, road closures and the possibility of evacuation orders in recent days.
Savage resident Darren Hurley had to be air-lifted after becoming stranded at a hunting cabin near the river for 12 hours on Saturday. He had left town early in the morning, amid reports of rising floodwaters, to rescue a camper parked on his riverfront property, Hurley told The Gazette on Wednesday.
"The floodwaters came in on me, so I basically abandoned the camper, grabbed what I thought was really important, and threw it in a pickup and headed out of the area," he said.
He then retreated to the hunting cabin, which is situated on a knoll that turned into an island as the water rose. When the first rush of water partially subsided, he said he gathered wood debris that had washed ashore in case he needed to keep himself warm for the long haul.
"As time went on, I was thinking, 'What can I do to prepare myself for an extended stay?'" Hurley said. "At no time did I really feel that my life was threatened. I knew with reasoning and perseverance that I could survive it."
Eventually, the Minot Air Force Base dispatched a helicopter Saturday evening to pluck him from the cabin and transport him to higher ground.
Asked how the camper fared during the ordeal, he replied, "I do not know the fate of the camper at this point."
By late Wednesday morning, the ice was headed downstream toward the river's confluence with the Missouri River just over the North Dakota border. A crust of ice up to 3 feet thick still overlies the Missouri, however, said Karolin Jappe, emergency services manager in McKenzie County, North Dakota.
"The biggest concern I have in my area is it getting to the confluence, because I have so many farmers there, and ranchers," Jappe said. "It's just a huge ice jam and with it cooling down again, I heard it was moving again this morning, but it's just a matter of time to wait and see. We've got some roads closed, and everybody's working together."
In a conference call Tuesday morning, Glasgow-based National Weather Service meteorologist Patrick Gilchrist noted that even for an area consistently in the crosshairs of large ice jams this time of year, the mass of ice accumulating near Savage was remarkable.
"That's huge as far as ice jams go," Gilchrist said. "It's backing up water into the adjoining low-lying areas, causing a lot of issues there."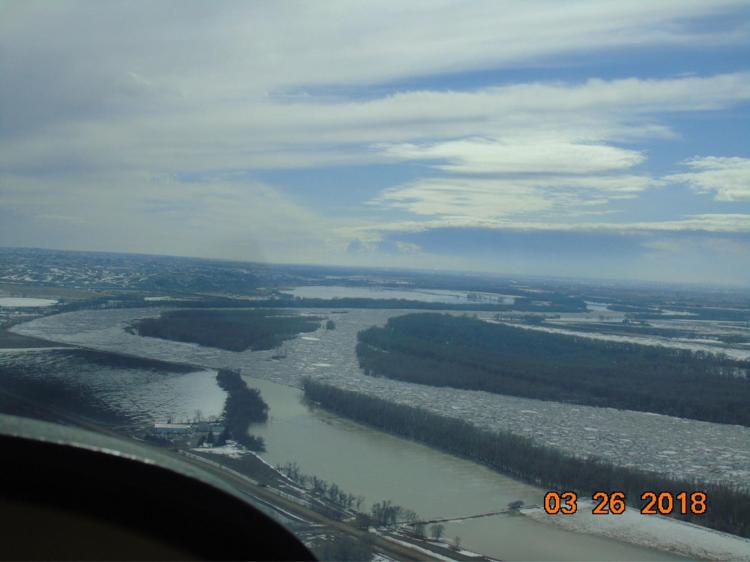 The confluence of the Yellowstone and Missouri rivers has already exceeded its flood stage by more than 2 feet, Jappe said. She expects nearby homeowners to deal with substantial flooding issues and has lists of residents' phone numbers ready in case the water starts backing up farther.
"Water's kind of like fire. We can't control the water; it does what it wants to do whether we like it or not," she said. But, she added, "They're used to this game every year or every other year, where you don't really know what's going to happen. These people have lived through this for many, many years."