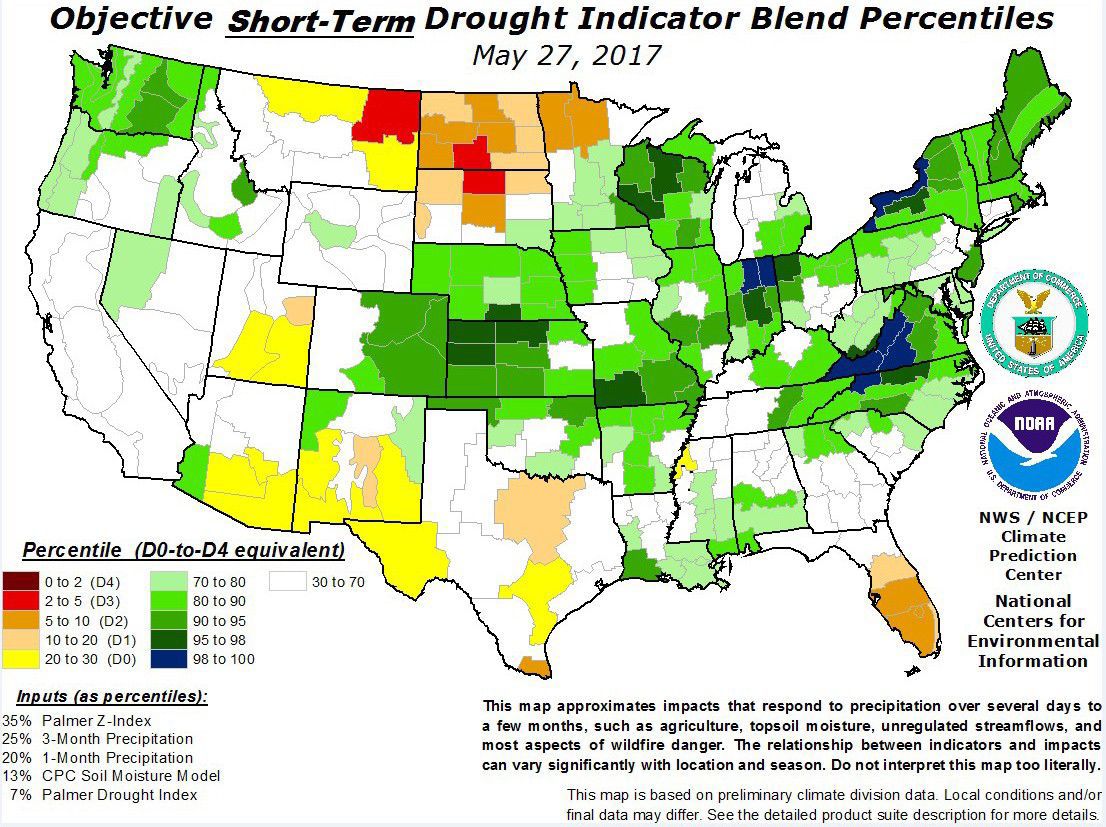 Drought already searing northeast Montana
Source:
Billings Gazette
Click here to read the article:
http://billingsgazette.com/news/state-and-regional/montana/drought-already-searing-northeast-montana/article_cf0a9328-4e65-5dce-a7ed-43f880dfbfdc.html
Gazette Staff
Drought conditions in northeast Montana have developed rapidly since the end of April.
Despite two consecutive years of record precipitation in 2015 and 2016, the winter months of 2017 did not bring much moisture; and while precipitation totals for April were average, May has seen only 25 percent of normal precipitation, along with above-normal temperatures. Rainfall is critical at this time of year for dryland producers across the region.
"This one took us by surprise," said Ada Montague, a water planner with the Montana Department of Natural Resources and Conservation. "While Wibaux and Fallon counties were on our radar, we did not anticipate such dry conditions would develop so quickly across such a large area."
Montague said the Governor's Drought and Water Supply Advisory Committee members have received reports that producers are selling off cattle due to concern about available forage in Dawson, Richland, McCone, Roosevelt, Prairie, Wibaux and Fallon counties. Reports of dry conditions are also coming in from Valley and Sheridan counties. In addition, producers in North Dakota and South Dakota are experiencing dry to very dry conditions.
"We have made reports to the U.S. Drought Monitor of the impacts to ag producers in northeast Montana," Montague said. "We continue to monitor conditions, and we're also working with the Montana Department of Agriculture and the Montana Department of Emergency Services to make sure we are doing all we can to address producer concerns."
The next Governor's Drought and Water Supply Advisory Committee meeting will be held on June 20 from 9-11 a.m. at DNRC Headquarters in Helena.